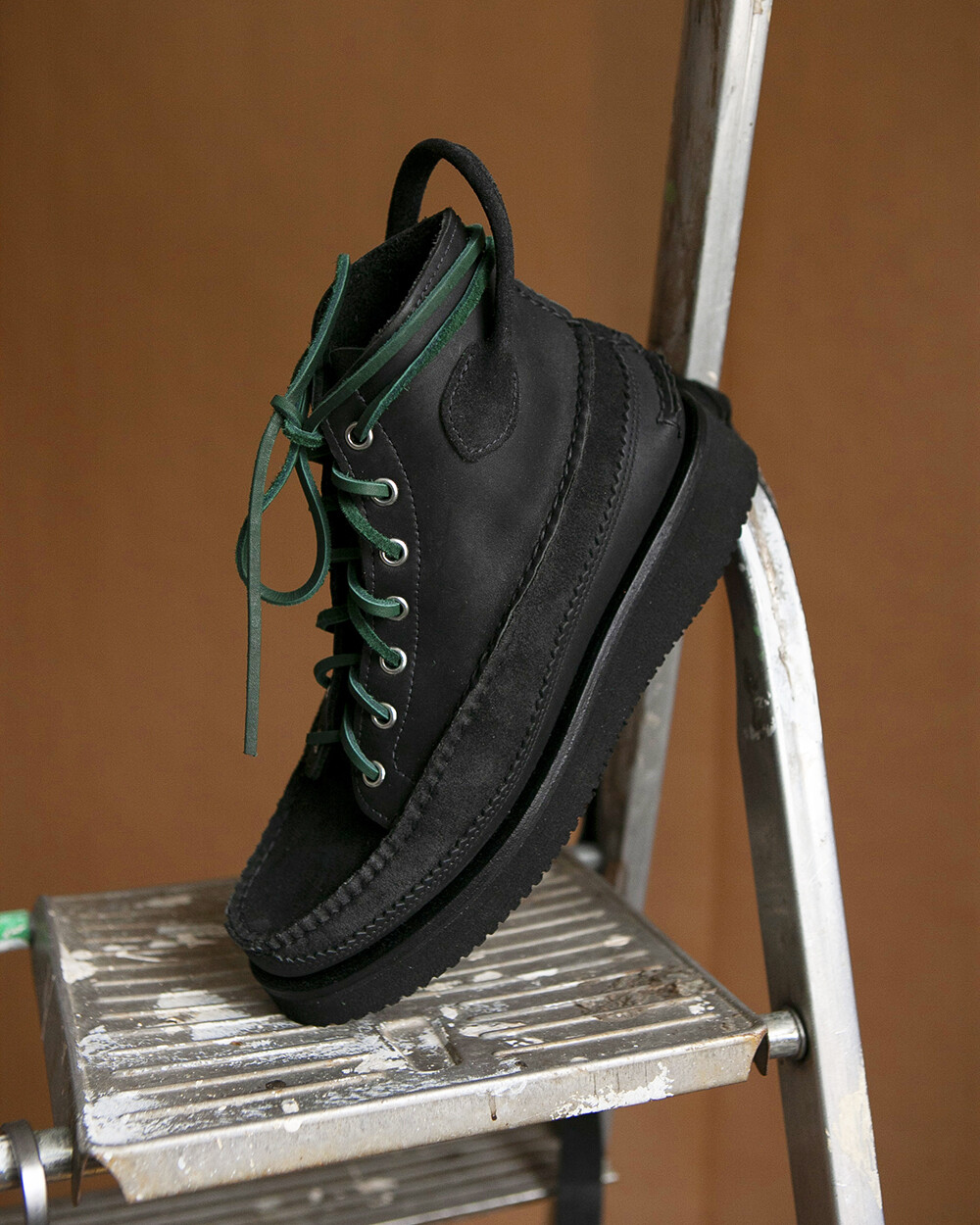 W'menswear x Yuketen 'Space Pilot's Boots'
SKU 001SPB
Product Details
We have worked with our friends at Meg Company in L.A. to produce a second "W'menswear <3's Yuketen" collaboration, the Space Pilot's Boot. These boots are directly based on test pilot Mike Melvill's boots worn on his successful mission on SpaceShipOne. The Moc toe shape, use of black leather, aluminium hardware, black ribbed Vibram sole, and army green laces were a salute to his high-speed and high-risk test flight. The addition of a handle was an added utility feature that we imagine could help in gravity-less situations, for example to clip into a storage module on the International Space Station.
The Boots are handmade in Maine, U.S.A. by Yuketen MFG. Co. with the best quality cow's leather, inverted at the handles and around the perimeter of the foot. This is not in fact suede, but the inversion of the leather, proven to behave better with age as opposed to suede which loses moisture and stiffens with time. Inside, our collaboration branding is embossed in silver on the footbed.
Each shoe is hand-stitched in Yuketen's Maine factory using a three-dimensional pattern. That lovely baseball stitch detailing you see on the outside of the shoe can only be done by hand. To closely mirror the incongruence of the human foot and deliver a moulded fit, seven asymmetrical pieces of leather are hand-punched and hand-sewn with awl, needle, and thread on Yuketen's proprietary last. The result is that the 'blucher' pieces (separate leather pieces sewn to the vamp for lacing) are asymmetrical, and contour more accurately to your foot while lacing. The base of the vamp (the entire part of the shoe that covers your foot) has been cinched to further ensure a good protective fit.

Sizing: These boots are sized as US Womens sizing, recommended as closest to a New Balance size. We recommend that you accomodate for thick socks when considering your sizing for these boots. Any questions? Please don't hesitate to email us.
Save this product for later