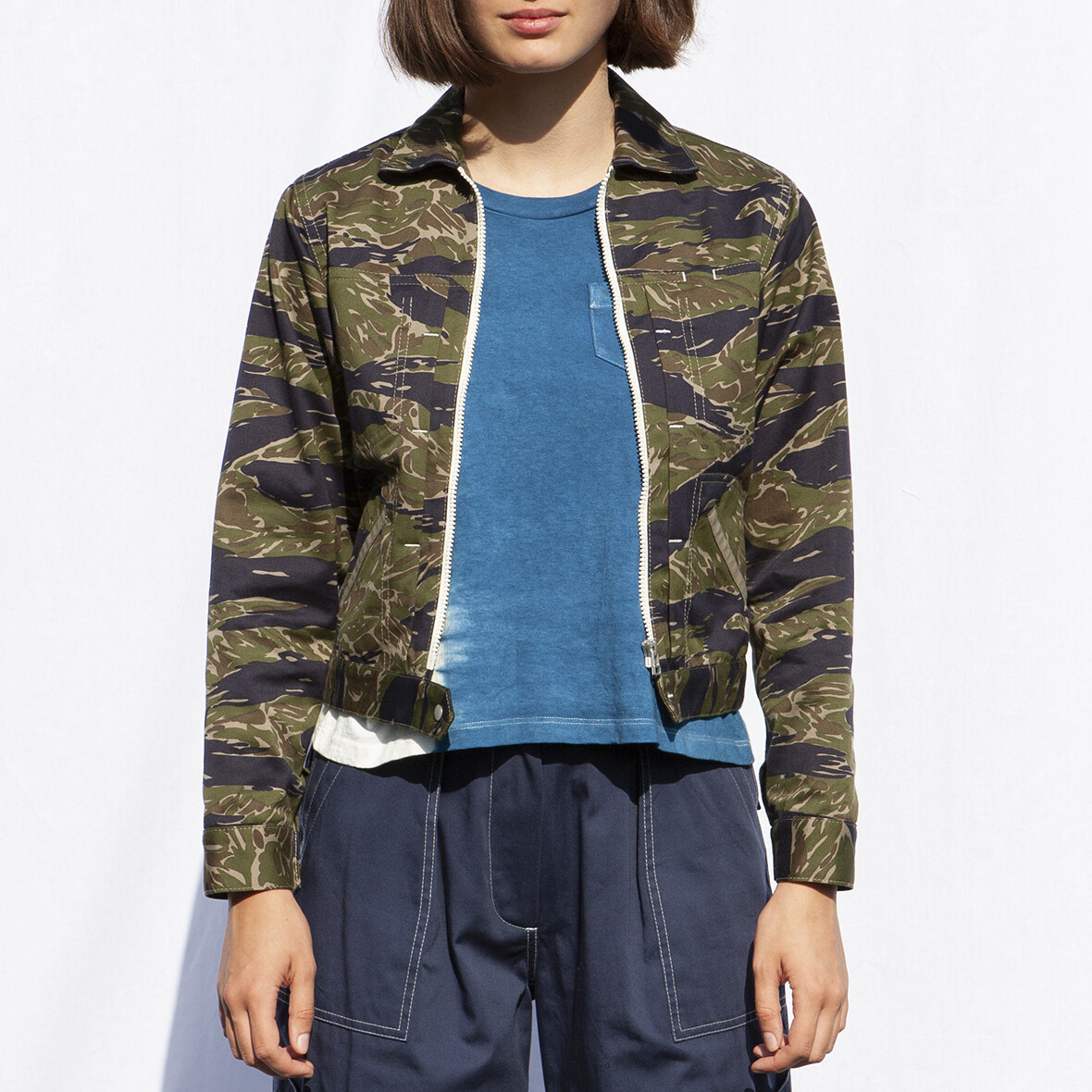 W'MENSWEAR ENGINEER'S JACKET IN CAMO
SKU ENG-C10
Product Details
Our favourite cropped jacket is back this season, inspired by the Tektite II research program in May of 1970. These are made in a Japanese cotton twill, screen printed in authentic Tigerstripe camo. Tigerstripe camo was developed for close-range use in dense jungle during jungle warfare by the Southern Vietnamese Armed Forces and adopted in 1964 by US Special Forces during the Vietnam War.
Machine washable. Elouise is 5'8 and is wearing a size UK 10.
- Small batch Japanese cotton twill
- Tiger camo screen print.
- Hidden interior breast pockets with exterior pencil slot.
- Anti-rust plastic zipper
- Bar Tacking at pocket joins and throughout center pleats.

Size 8 measurements: 50.5cm Length / 14cm Shoulder Width / 45cm 1/2 Bust Width / 39cm 1/2 Hem Width / 56cm Sleeve Length / 22.5cm 1/2 Bicep Width / 10cm 1/2 Sleeve Hem

Size 10 measurements: 51.5cm Length / 14cm Shoulder Width / 47cm 1/2 Bust Width / 41cm 1/2 Hem Width / 56.25cm Sleeve Length / 23cm 1/2 Bicep Width / 10cm 1/2 Sleeve Hem

Size 12 measurements: 52.5cm Length / 14.5cm Shoulder Width / 49cm 1/2 Bust Width / 43cm 1/2 Hem Width / 56.5cm Sleeve Length / 23.5cm 1/2 Bicep Width / 10.5cm 1/2 Sleeve Hem

Save this product for later